Oct
17
Mon
ASCEND PER ASPERA AD ASTRA: A Career Orientation on Biotechnology

@ Drilon Hall, SEARCA
This event is organized by the UP League of Agriculural Biotechnology Students in partnership with the DA Biotechnology Program Office and the Biotechnology Coalition of the Philippines in cooperation with SEARCA Biotechnology Information Center.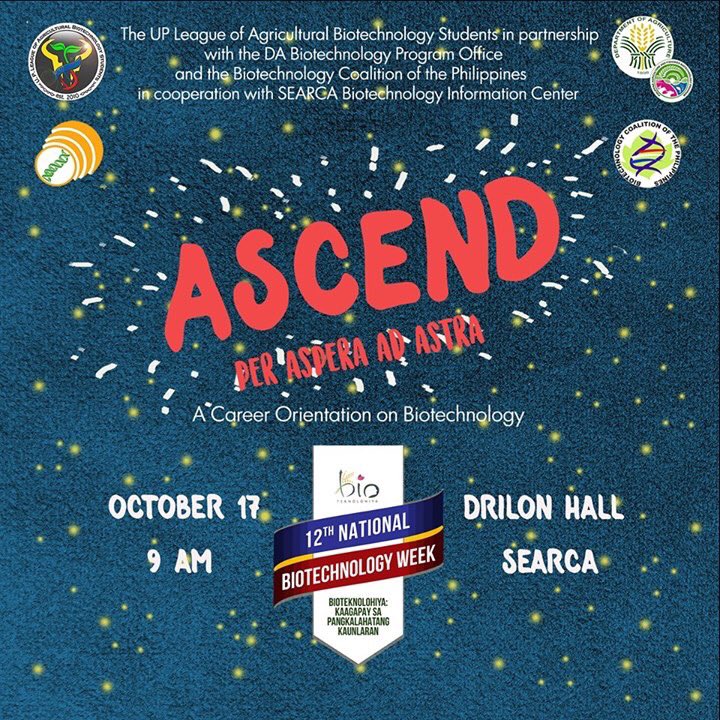 May
19
Fri
SEARCA ADSS: Seminar on the Global Status of Commercialized Biotech Crops in 2016

@ Drilon Hall, SEARCA
May 19 @ 3:00 pm – 5:00 pm
SEARCA, in collaboration with the International Service for the Acquisition of Agri-biotech Applications (ISAAA), is pleased to invite you and your colleagues to the following seminar at the SEARCA headquarters, UPLB Campus, Los Baños, Laguna:
 Global Status of Commercialized Biotech/GM Crops in 2016
by Dr. Paul S. Teng
Chair of the Board, ISAAA and Senior Fellow, SEARCA
 19 May 2017 (Friday), Drilon Hall, 3:00 p.m.
 The SEARCA Agriculture & Development Seminar Series (ADSS) and its special seminars are open to the public.  It is meant to encourage the presentation and discussion of development and research issues, as well as their implications for agricultural and rural development. Through the ADSS, SEARCA proactively contributes to having a vibrant scientific exchange within, and even beyond, the Los Baños Science Community.
Jun
27
Wed
Biotech France 2018 International Conference and Exhibition

@ Pôle Universitaire Léonard de Vinci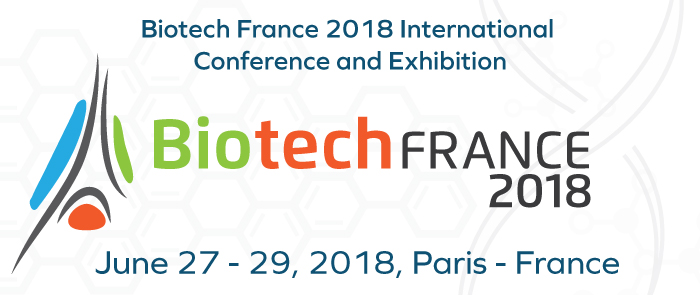 The international applied biotechnology conference: Biotech France 2018 Conference & Expo will be held in Paris, France from 27 to 29 June 2018. This international event will reflect the full diversity of current biotechnology science advances in research and practice that open opportunities for exploitation of knowledge, commercially or otherwise, together with news, discussion and comment on broader issues of general interest and concern.
The aim of this conference is to foster the exchange of knowledge, experiences and ideas among scientists, academics, students, industry representatives and other professionals interested in biotechnology; and works to develop synergies and relationships that further advance the field. It will provide an excellent opportunity to all participants to establish networks, to share ideas and to form partnerships with biotechnology-based private sectors, equipment manufacturers, technology providers, and biotechnology associations, research institutes, universities, biotechnologists and biotechnology students.
The Biotech France 2018 is an international conference on applied biotechnology focusing on the following topics:
Biochemical/Bioprocess Engineering
Pharmaceutical/ Medical Biotechnology
Environmental Biotechnology- Green Economy
Food, Marine and Agro-Biotechnology
Bio-economy/ Green Economy
Conference Deadlines
Abstracts Submission Deadline – Apr 27 , 2018
Early Bird Registration fee deadline – Mar 30 , 2018
Conference Registration deadline – May 24 , 2018
Conference Proceedings Papers Deadline – Jul 20 , 2018
Conference Journals Papers Submission Deadline – Jul 20 , 2018