Oct
17
Mon
ASCEND PER ASPERA AD ASTRA: A Career Orientation on Biotechnology

@ Drilon Hall, SEARCA
This event is organized by the UP League of Agriculural Biotechnology Students in partnership with the DA Biotechnology Program Office and the Biotechnology Coalition of the Philippines in cooperation with SEARCA Biotechnology Information Center.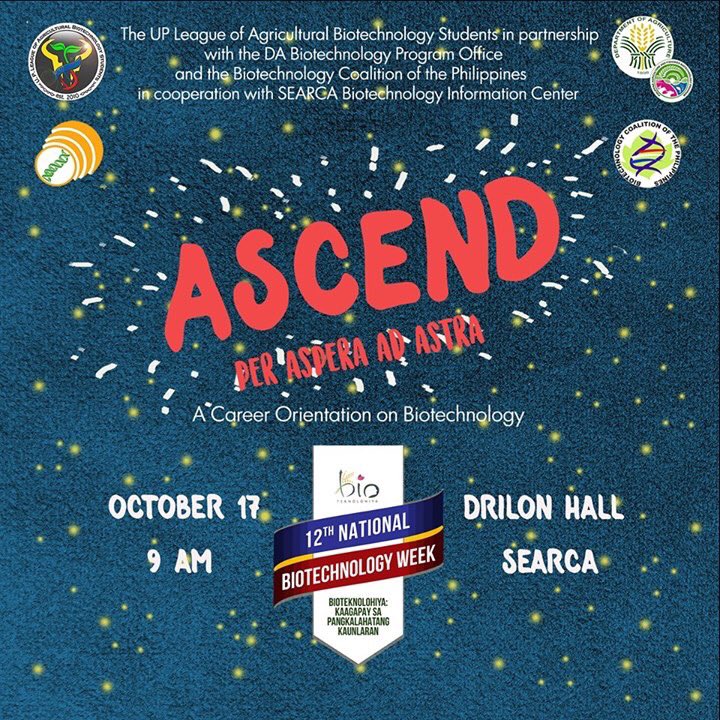 Jun
27
Wed
Biotech France 2018 International Conference and Exhibition

@ Pôle Universitaire Léonard de Vinci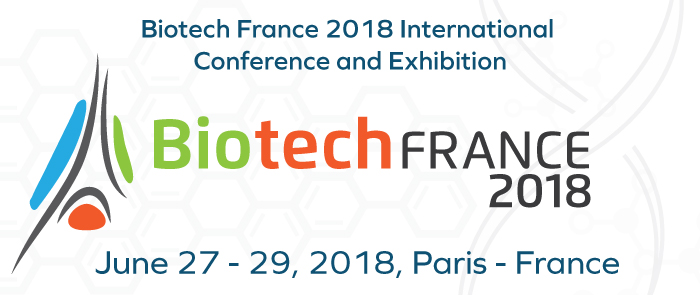 The international applied biotechnology conference: Biotech France 2018 Conference & Expo will be held in Paris, France from 27 to 29 June 2018. This international event will reflect the full diversity of current biotechnology science advances in research and practice that open opportunities for exploitation of knowledge, commercially or otherwise, together with news, discussion and comment on broader issues of general interest and concern.
The aim of this conference is to foster the exchange of knowledge, experiences and ideas among scientists, academics, students, industry representatives and other professionals interested in biotechnology; and works to develop synergies and relationships that further advance the field. It will provide an excellent opportunity to all participants to establish networks, to share ideas and to form partnerships with biotechnology-based private sectors, equipment manufacturers, technology providers, and biotechnology associations, research institutes, universities, biotechnologists and biotechnology students.
The Biotech France 2018 is an international conference on applied biotechnology focusing on the following topics:
Biochemical/Bioprocess Engineering
Pharmaceutical/ Medical Biotechnology
Environmental Biotechnology- Green Economy
Food, Marine and Agro-Biotechnology
Bio-economy/ Green Economy
Conference Deadlines
Abstracts Submission Deadline – Apr 27 , 2018
Early Bird Registration fee deadline – Mar 30 , 2018
Conference Registration deadline – May 24 , 2018
Conference Proceedings Papers Deadline – Jul 20 , 2018
Conference Journals Papers Submission Deadline – Jul 20 , 2018
Jun
12
Wed
12th World Congress on Plant Biotechnology & Agriculture

@ Prague, Czech Republic
What is Agri World 2019?
With the amalgamation of speakers of Agriculture research, Plant Biotechnology Conferences Scientific Meetings is privileged to announce its "12th World Congress on Plant Biotechnology & Agriculture" which will be held during June 12-13, 2019 in Prague, Czech Republic. We cordially welcome all the eminent researchers, students and delegates to take part in this upcoming Plant Biotechnology research conference, to witness valuable scientific discussions and contribute to the future innovations in the field of pediatrics and its allied areas.
This Conference is a platform for Plant biotechnology students, faculty, deans, researchers, and leaders to collaborate on topics affecting Agriculture. Attendees can take advantage of opportunities to learn about Plant Biotechnology and Agriculture research from a variety of oral and poster presentations. Meet and network with Biotechnologist ranging from students to deans, faculty, and researchers. Take advantage of opportunities to collaborate with Plant Biotechnologist from around the world. Attend prominent plenary sessions about relevant issues affecting.
Who are Attending?
Agriculturist, Agronomist, Plant Scientists, Agronomy & Agricultural Science Faculty, Scientists, Students, Soil Microbiologist and Plant Biotechnologist, Animal Science Faculty, Students, Scientists, Horticulturist, Agriculture and Plant Associations and Societies Members, Agribusiness Professionals and Entrepreneurs Seed Science and Soil Science Researchers, Agro-Product Based Organizations, Manufacturing Agricultural Devices Companies etc.
Major Sessions
Organic Farming
Livestock Farming & Production
Agricultural Biotechnology & Agro-forestry
Agronomy and Crop Sciences
Greenhouse & Horticulture
Applied Plant Science
Plant Biotechnology
Plant Pathology and Entomology
Agrotechnology & Soil Science
Plant Phenology and Physiology
Crop Protection and Awareness
Rice & Wheat Research
Agriculture Engineering & its Applications
Agriculture Economics & Agribusiness
Sustainable Agriculture