Oct
17
Mon
ASCEND PER ASPERA AD ASTRA: A Career Orientation on Biotechnology

@ Drilon Hall, SEARCA
This event is organized by the UP League of Agriculural Biotechnology Students in partnership with the DA Biotechnology Program Office and the Biotechnology Coalition of the Philippines in cooperation with SEARCA Biotechnology Information Center.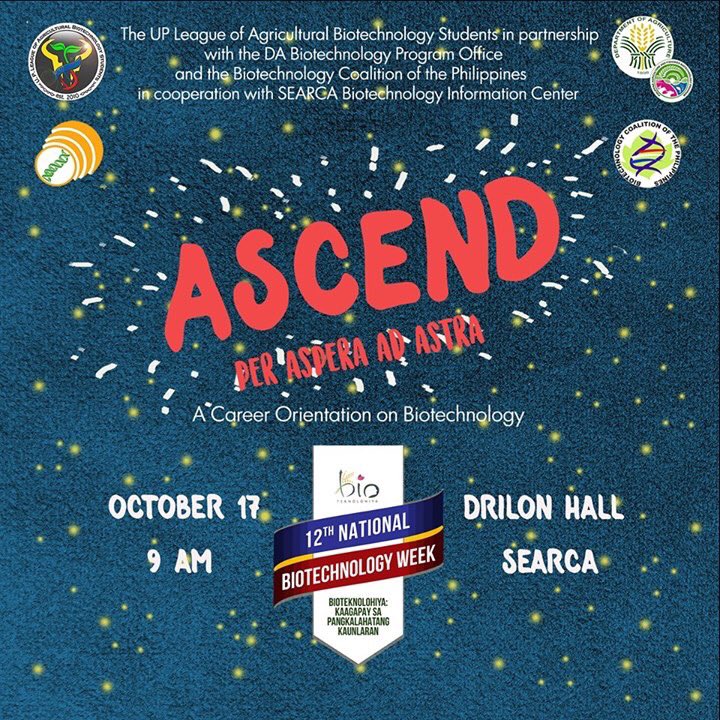 Jan
25
Thu
Intellectual Property Rights (IPR) and Biotechnology

@ Drilon Hall, SEARCA, College, Los Banos, Laguna
Jan 25 @ 3:00 pm – 5:00 pm
SEARCA Agriculture & Development Seminar Series (ADSS)
SEARCA, through its Biotechnology Information Center (BIC), is pleased to invite you and your colleagues to the following seminar at the SEARCA headquarters, UPLB Campus, Los Baños, Laguna:
Intellectual Property Rights (IPR) and Biotechnology
by Atty. Rowanie A. Nakan
Cruz, Marcelo and Tenefrancia
25 January 2018 (Tuesday) | SEARCA Drilon Hall | 3:00-5:00 p.m.
Organized in partnership with the Philippine Genome Center-Agriculture
---
The SEARCA Agriculture & Development Seminar Series (ADSS) and its special seminars are open to the public.
The ADSS is meant to encourage the presentation and discussion of development and research issues, as well as their implications for agricultural and rural development. Through the ADSS, SEARCA proactively contributes to having a vibrant scientific exchange within, and even beyond, the Los Baños Science Community.
Past ADSS speakers include *Senator Cynthia Villar* (Philippine Senator) *Dr. Segfredo R. Serrano* (Undersecretary for Policy and Planning, Department of Agriculture); *Dr. Serafin D. Talisayon* (Professor, UP Diliman); *Mr. David Wolf* (Acting Agricultural Counselor, US Embassy in Manila); *Atty. Marvic M. V. F. Leonen* (Dean, College of Law, UP Diliman and now Supreme Court Associate Justice); *Engr. Elma T. Karunungan* (Chief, Alternative Fuels and Energy Technology Division, Department of Energy); *Dr. Shinji Kaneko* (Associate Professor, Graduate School for International Development and Cooperation, Hiroshima University, Higashi-Hiroshima, Japan); *Dr. Thomas Elhaut,* (Director for Asia and the Pacific Division, International Fund for Agricultural Development [IFAD], Rome, Italy); *Prof. Yujiro Hayami*, (Advisor to the Graduate Faculty of the Foundation for Advanced Studies on International Development [FASID] and Visiting Professor of the National Graduate Institute of Policy Studies (GRIPS) in Japan; *Dr. Dennis P. Garrity* (Director General, World Agroforestry Center); *Dr. Cielito F. Habito* (former Director-General of the Philippines' National Economic and Development Authority [NEDA], Professor of Economics in the Ateneo de Manila University, and Director of the Ateneo Center for Economic Research and Development [ACERD]); *Dr. Prahbu Pingali* (UN FAO); *Dr. Mahar Mangahas* (Social Weather Stations); *Dr. Rafaello Tarroni *(Representative, United Nations Industrial Development Organization); *Prof. Randolf David* (UP Diliman); *Dr. George Norton* (Virginia Polytechnic Institute and State University); *Dr. Donato Antiporta* (UN FAO-Regional Office for Asia and the Pacific); *Dr. Steven Rood* (Asia Foundation); *Dr. Stephan Haggard* (University of California San Diego); *Dr. Olivia Castillo* (Asia Pacific Roundtable for Cleaner Production); *Mr. Daan Boom* (Asian Development Bank); *Ms. Lisa Antonio* (Philippine Business for the Environment), *Mr. Florencio Abad* (Former Secretary, Department of Education); *Secretary Romulo Neri *(Secretary, Department of Budget and Management and Former NEDA Director General); *Mr.Cesar E.A. Virata *(Former Philippine Prime Minister); *Dr. Gerardo Sicat* (Former NEDA Director-General and Professor Emeritus, UP Diliman), *Mr. Senen Bacani *(Former Secretary, Philippine Department of Agriculture), *Dr. Benjamin Diokno *(Former Secretary, Philippine Department of Budget and Management and Professor, UP Diliman), *Dr. Amelia Ancog* (Former Undersecretary, Philippine Department of Science and Technology), *Dr. Ben S. Malayang III *(Former Undersecretary, Philippine Department of Environment and Natural Resources), and *Ms. Deborah Landey* (Former Representative, United Nations Development Programme).
For further inquiries, please contact Ms. Rosario B. Bantayan, Program Specialist, Knowledge Management Department through email (rbb@searca.org) or telephone (049 554 9330 to 36, local 3502).
Jun
27
Wed
Biotech France 2018 International Conference and Exhibition

@ Pôle Universitaire Léonard de Vinci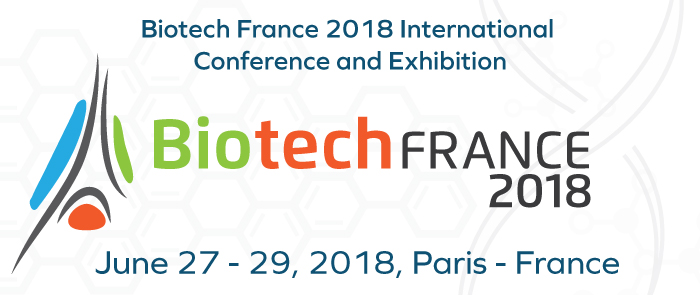 The international applied biotechnology conference: Biotech France 2018 Conference & Expo will be held in Paris, France from 27 to 29 June 2018. This international event will reflect the full diversity of current biotechnology science advances in research and practice that open opportunities for exploitation of knowledge, commercially or otherwise, together with news, discussion and comment on broader issues of general interest and concern.
The aim of this conference is to foster the exchange of knowledge, experiences and ideas among scientists, academics, students, industry representatives and other professionals interested in biotechnology; and works to develop synergies and relationships that further advance the field. It will provide an excellent opportunity to all participants to establish networks, to share ideas and to form partnerships with biotechnology-based private sectors, equipment manufacturers, technology providers, and biotechnology associations, research institutes, universities, biotechnologists and biotechnology students.
The Biotech France 2018 is an international conference on applied biotechnology focusing on the following topics:
Biochemical/Bioprocess Engineering
Pharmaceutical/ Medical Biotechnology
Environmental Biotechnology- Green Economy
Food, Marine and Agro-Biotechnology
Bio-economy/ Green Economy
Conference Deadlines
Abstracts Submission Deadline – Apr 27 , 2018
Early Bird Registration fee deadline – Mar 30 , 2018
Conference Registration deadline – May 24 , 2018
Conference Proceedings Papers Deadline – Jul 20 , 2018
Conference Journals Papers Submission Deadline – Jul 20 , 2018