Jun
27
Wed
Biotech France 2018 International Conference and Exhibition

@ Pôle Universitaire Léonard de Vinci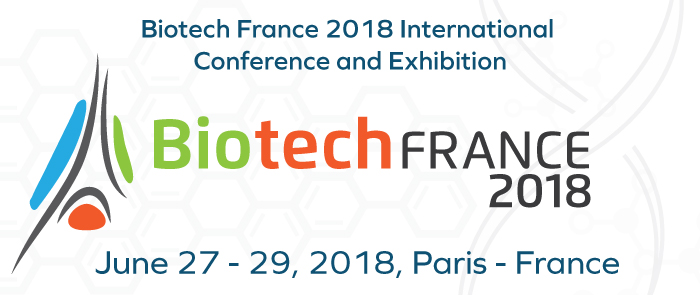 The international applied biotechnology conference: Biotech France 2018 Conference & Expo will be held in Paris, France from 27 to 29 June 2018. This international event will reflect the full diversity of current biotechnology science advances in research and practice that open opportunities for exploitation of knowledge, commercially or otherwise, together with news, discussion and comment on broader issues of general interest and concern.
The aim of this conference is to foster the exchange of knowledge, experiences and ideas among scientists, academics, students, industry representatives and other professionals interested in biotechnology; and works to develop synergies and relationships that further advance the field. It will provide an excellent opportunity to all participants to establish networks, to share ideas and to form partnerships with biotechnology-based private sectors, equipment manufacturers, technology providers, and biotechnology associations, research institutes, universities, biotechnologists and biotechnology students.
The Biotech France 2018 is an international conference on applied biotechnology focusing on the following topics:
Biochemical/Bioprocess Engineering
Pharmaceutical/ Medical Biotechnology
Environmental Biotechnology- Green Economy
Food, Marine and Agro-Biotechnology
Bio-economy/ Green Economy
Conference Deadlines
Abstracts Submission Deadline – Apr 27 , 2018
Early Bird Registration fee deadline – Mar 30 , 2018
Conference Registration deadline – May 24 , 2018
Conference Proceedings Papers Deadline – Jul 20 , 2018
Conference Journals Papers Submission Deadline – Jul 20 , 2018
Jul
1
Sun
18th European Congress On Biotechnology

@ International Conference Centre Geneva (CICG)
The first European Congress of Biotechnology in Interlaken, Switzerland, in 1978 marked the inauguration of the European Federation of Biotechnology (EFB). In 2018, we are delighted to welcome you back to Switzerland to celebrate the 40th anniversary of the longest running biotechnology congress in Europe. Between Lake Geneva and surrounding mountains, ECB2018 will be held in the beautiful and vibrant city of Geneva.
EFB began as a rather small group of working parties from different European countries. Their interests ranged from fermentation technology to the public perception of biotechnology, applied microbiology and genetics, downstream processing and measurement and control. Forty years later, EFB is now open to all who share our mission of promoting the safe, sustainable and ethical use of biological systems for the benefit of mankind. The current 30,000 personal members, who span the world from Latin America to China, Korea and Japan, is also a reflection of the success of recent EFB congresses.
Oct
25
Fri
2nd Plant Sciences Symposium

@ SEARCA
About the Symposium
The Plant Sciences Symposium is primarily a student organized symposia series sponsored by Corteva Agriscience™, an agriculture division of DowDupont™, that is held at universities and research institutes worldwide. The objective of the Symposium is to promote the interaction between scientists and experts of both public and private sectors. In October 2019, the International Rice Research Institute (IRRI) will host the Plant Science Symposium in Los Baños, Philippines.
Theme
The theme of the symposium is "Agri-food value chain: Challenges and Opportunities".
Focusing on five levels of the value chain: 1) Agri-input manufacturer, 2) Farmers, 3) Food manufacturer and traders, 4) Food retailers, and 5) Consumers.
About the Host
IRRI is the world's premier research organization dedicated to reducing poverty and hunger through rice science, improving the health and welfare of rice farmers and consumers, and protecting rice-growing environments for future generations. It is an independent, nonprofit, research and educational institute, founded in 1960 by the Ford and Rockefeller foundations with support from the Philippine government. The Institute is also a part of the Consultative Group on International Agricultural Research (CGIAR), a global partnership that unites organizations engaged in research for a food-secured future.
The Symposium is organized by the Association of Fellows, Scholars, Trainees, and Residents of IRRI (AFSTRI) which is a scholar-based community responsible for trainings, sports, and cultural activities for all students, research scholars, postdoctoral fellows, and trainees at IRRI.
About the Co-host
The Southeast Asian Regional Center for Graduate Study and Research in Agriculture (SEARCA) is one of the 26 specialist institutions of the Southeast Asian Ministers of Education Organization (SEAMEO). Established in 1966 and hosted by the Philippine government, SEARCA is mandated to strengthen institutional capacities in agricultural and rural development in Southeast Asia through graduate education and institutional development, research and development, and knowledge management. It serves the 11 SEAMEO member countries, namely, Brunei Darussalam, Cambodia, Indonesia, Lao PDR, Malaysia, Myanmar, the Philippines, Singapore, Thailand, Timor-Leste, and Vietnam.