Sep
25
Mon
European Biotech Week: Celebrating Innovation
The European Biotech Week celebrates biotechnology, an innovative and vibrant sector launched by the discovery of the DNA molecule back in 1953. The first European Biotech Week that took place in 2013 marked the 60th anniversary of this pivotal moment in history.
This momentous occasion opened the door to a better understanding of the world we live in both for scientists and for society.
To provide you with an example, DNA triggered crucial discoveries and deeper knowledge on genes, proteins, viruses, bacteria and stem cells.
Biotech entrepreneurs were able to translate this knowledge into applications for many sectors such as healthcare, agriculture, food, energy, water sanitation and biochemical processing, all of which have changed the world for the better.
Biotech associations are key in helping to maximize the potential of biotechnology. In Europe, the National Associations Council, hosted by EuropaBio, represents 17 national biotech associations that together represent over 1,800 small- and medium-sized biotech companies and organisations.
In 2017, the week takes place between 25 September and 1 October.
Jun
27
Wed
Biotech France 2018 International Conference and Exhibition

@ Pôle Universitaire Léonard de Vinci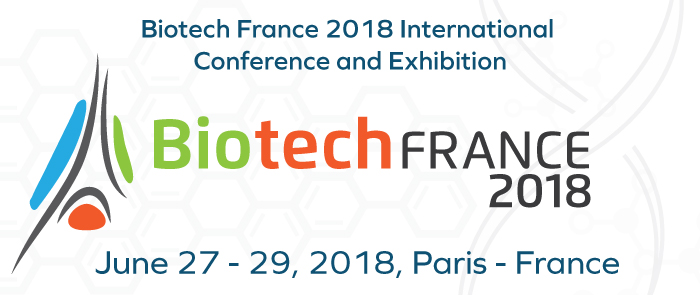 The international applied biotechnology conference: Biotech France 2018 Conference & Expo will be held in Paris, France from 27 to 29 June 2018. This international event will reflect the full diversity of current biotechnology science advances in research and practice that open opportunities for exploitation of knowledge, commercially or otherwise, together with news, discussion and comment on broader issues of general interest and concern.
The aim of this conference is to foster the exchange of knowledge, experiences and ideas among scientists, academics, students, industry representatives and other professionals interested in biotechnology; and works to develop synergies and relationships that further advance the field. It will provide an excellent opportunity to all participants to establish networks, to share ideas and to form partnerships with biotechnology-based private sectors, equipment manufacturers, technology providers, and biotechnology associations, research institutes, universities, biotechnologists and biotechnology students.
The Biotech France 2018 is an international conference on applied biotechnology focusing on the following topics:
Biochemical/Bioprocess Engineering
Pharmaceutical/ Medical Biotechnology
Environmental Biotechnology- Green Economy
Food, Marine and Agro-Biotechnology
Bio-economy/ Green Economy
Conference Deadlines
Abstracts Submission Deadline – Apr 27 , 2018
Early Bird Registration fee deadline – Mar 30 , 2018
Conference Registration deadline – May 24 , 2018
Conference Proceedings Papers Deadline – Jul 20 , 2018
Conference Journals Papers Submission Deadline – Jul 20 , 2018
Apr
1
Mon
13th Pan-Asia Farmers Exchange Program

@ Manila Hotel
About Program
The Pan-Asia Farmers Exchange Program or the FX Program is a platform of knowledge sharing and exchange on agricultural plant biotechnology.
It brings together farmers and other stakeholders from Asia to learn about plant biotechnology through first-hand experience by visiting plant biotech commercial farms and R&D biotech facilities; and interacting with farmers, scientists, media and policymakers.
The FX Program has been held annually since 2007. The 9th FX Program was held Mar 2-7 in the Philippines. The CropLife Asia, CropLife Philippines and the Biotechnology Coalition of the Philippines have organized the nine editions of the FX program.