Oct
17
Mon
ASCEND PER ASPERA AD ASTRA: A Career Orientation on Biotechnology

@ Drilon Hall, SEARCA
This event is organized by the UP League of Agriculural Biotechnology Students in partnership with the DA Biotechnology Program Office and the Biotechnology Coalition of the Philippines in cooperation with SEARCA Biotechnology Information Center.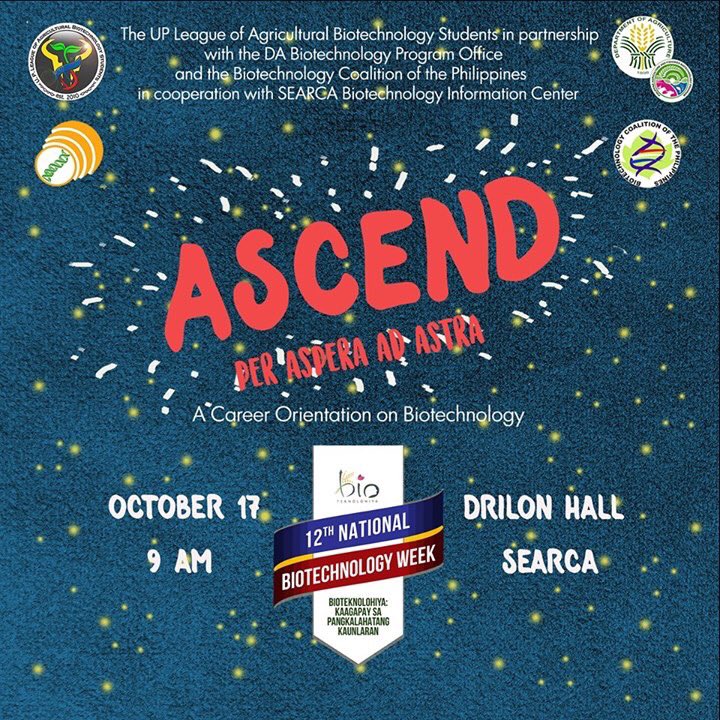 Feb
28
Thu
22nd Global Congress on Biotechnology
About Conference:
The International "22nd Global Congress on Biotechnology" brings a chance to gift and discuss all the innovations in Biotechnology. This conference permits leading educational scientists, researchers and industrialists from everywhere the planet to exchange and share their experiences, recent innovations, sensible challenges, advanced instrumentation and analysis results. Biotechnology has a broader set of speakers, and a broader array of programs geared toward each scientists and industrialists. This meeting offers a powerful likelihood to speak regarding the foremost recent advancements latest developments among the sector.
Conference Series LLC Ltd is happy to welcome you to our "Biotechnology 2019" that is to be held on February 28-March 2, 2019 at Berlin, Germany. This includes prompt keynote speakers and displays, Oral and Poster displays, and far a lot of. This additionally includes varied workshops guided by eminent delegates.
Why to attend?
Biotechnology 2019 may be a world stage for exhibiting analysis regarding designation, hindrance and management and exchanging concepts regarding it and through this fashion, adds to the unfold of data in Biotechnology and child health for the advantage of every learned community and business. The organizing committee of the "Biotechnology 2019"is preparing for associate energizing and instructive meeting program furthermore as comprehensive lectures, symposia, workshops on an expansion of topics, poster displays and various programs for participants from all over the world. We tend to tend to ask you to the Biotechnology 2019, where you will confirm to possess a major experience with students from all around the world. All members of the commercial Biotechnology 2019, organizing committee expect to fulfil you in Berlin, Germany.
Targeted audience:
Students
Research Scholars
Scientists
Young Researchers
Biotechnology Industries
Biotech Food Industry
Agro industry
Digital medicine and therapeutic companies
Pharma, biotech, and tech companies
Health care industries
Venture capital, private equity, and institutional investors
Buy and sell-side analysts
Biotechnology researchers
Business associates
Biotechnology entrepreneurs
Training institutes
Industrial Biotechnology associations
Apr
1
Mon
13th Pan-Asia Farmers Exchange Program

@ Manila Hotel
About Program
The Pan-Asia Farmers Exchange Program or the FX Program is a platform of knowledge sharing and exchange on agricultural plant biotechnology.
It brings together farmers and other stakeholders from Asia to learn about plant biotechnology through first-hand experience by visiting plant biotech commercial farms and R&D biotech facilities; and interacting with farmers, scientists, media and policymakers.
The FX Program has been held annually since 2007. The 9th FX Program was held Mar 2-7 in the Philippines. The CropLife Asia, CropLife Philippines and the Biotechnology Coalition of the Philippines have organized the nine editions of the FX program.