Oct
17
Mon
ASCEND PER ASPERA AD ASTRA: A Career Orientation on Biotechnology

@ Drilon Hall, SEARCA
This event is organized by the UP League of Agriculural Biotechnology Students in partnership with the DA Biotechnology Program Office and the Biotechnology Coalition of the Philippines in cooperation with SEARCA Biotechnology Information Center.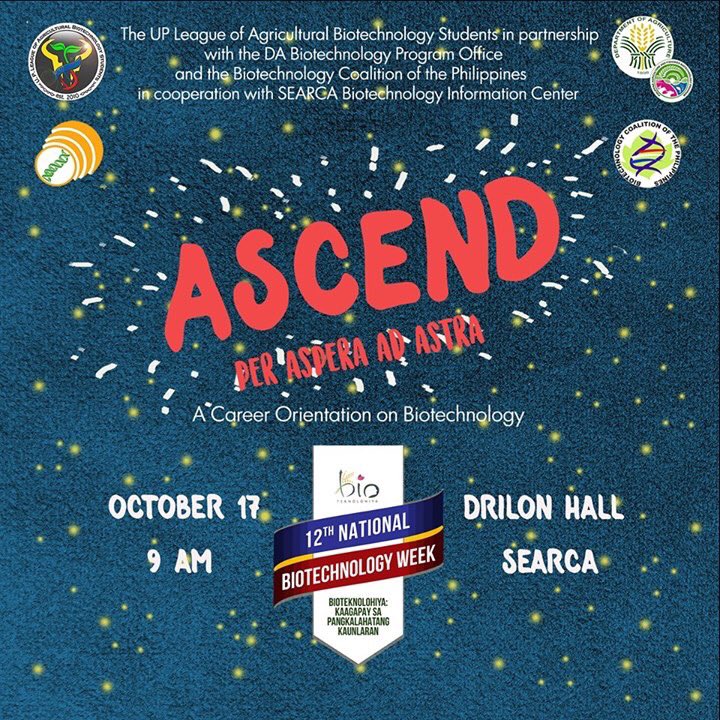 Jul
29
Mon
6th Plant Genomics & Gene Editing Congress Asia co-located with Microbiome for Agriculture Congress Asia 2019
29-30th July – Grand Millennium Hotel Kuala Lumpur, MALAYSIA
We are proud to announce that
SEARCA-BIC
is the official media partner for this event and as a member/subscriber, you are entitled to get 10% OFF* by applying the discount code 

SK/PGCA/10

 when you register online
Over the recent years, plant research and its associated technologies have improved drastically as a result of revolutionary breakthroughs such as new gene editing technology and the reduction in the cost of sequencing. As a result of many plants have now been successfully sequenced and a wide range of biological data-set made available, plant scientists are now making use of state of the art technology platforms to help explain biological principals, advance research and therefore enable benefits such as crop improvement and breeding techniques.
Meanwhile, the mass variety of microbes within the plant and soil are not only crucial in plant growth, yield & health, but also in pest management and fixation cycles. The crop quality improving technologies and the new pest control technologies are now becoming important tools to farmers.
This year, we are pleased to announce that the congress is co-located with Microbiome for Agriculture Congress Asia 2019. This congress is part of our highly respected Plant Genomic Series held in Europe each May and the US every September each year.
Join us in Kuala Lumpur, MALAYSIA on 29-30th July 2019
Applicable for academics, non-profit & industry delegates only
| | | |
| --- | --- | --- |
| Malaysian Bioeconomy Development Corporation | Asian Association of Agricultural Colleges and Universities | Malaysia Agricultural Proteomics Society |
GLOBAL ENGAGE SDN BHD – Asia Pacific Office – Level 33, Ilham Tower, 8 Jalan Binjai, 50450 Kuala Lumpur, MALAYSIA, T:+60 32117 5247
Produced & Organised by :
Sep
23
Mon
International Biotechnology Conference 2019
About Conference
Outlook Conferences is pleased to welcome you all for International Biotechnology Conference, which will be held at Chicago, USA during September 23-24, 2019, aims to become the leading annual conference in the fields related to Biotechnology. This conference has an elemental feature to the world distinguished motive speakers, plenary speeches, young Investigators & Researchers Forum, Poster presentations, Oral presentations, technical workshop, and scientific sessions.
The goal of OLCBC-2019 is to bring together researchers, scientists, engineers, and scholar students to exchange and share their experiences, new ideas, and research results about all aspects of Biotechnology and discuss the practical challenges encountered and the solutions adopted.
This time we adopted the theme of "Exploring Biotechnology to find more sustainable solutions to address global problems."
This conference offers good opportunities for the researchers and delegates to exchange new ideas, and to establish research and/or business links, as well as to build a global partnership for potential collaboration. We sincerely hope that the conference will help advance knowledge in relevant scientific and academic fields.
We sincerely hope that this serves as an international platform for meeting researchers from around the world, widen professional contact and create new opportunities, including establishing new collaborations.
We are looking forward to seeing you at OLCBC-2019 in Chicago, USA.
Ph.D. Student Forum:
Ph.D. Student Forum is the Outlook Conference's flagship program and is a premier international forum for biotechnologists and researches to present their work. The Ph.D. Forum will provide an opportunity for a group of Ph.D. students to discuss and explore their research interests and career objectives with a panel of established researchers in the field of biotechnology.
The consortium has the following objectives:
To provide a setting for mutual feedback on participants' current research and guidance on future research directions;

To develop a supportive community of scholars and a spirit of collaborative research;

To support a new generation of researchers by offering advice about academic, research, industrial, and non-traditional career paths; and

To contribute to the overall conference goals through interaction with other researchers and participation in conference events.
The Ph.D. Forum will be held on the 2nd day of the conference, as a full afternoon session during the main Biotechnology conference. Students may apply to participate either as a workshop participant or as a speaker.
We hope you will make some time for this must-attend event in the entire biotechnology sector.
This conference will provide you an opportunity to accelerate your research in right direction.
Looking forward to seeing you at this esteemed conference.