Oct
17
Mon
ASCEND PER ASPERA AD ASTRA: A Career Orientation on Biotechnology

@ Drilon Hall, SEARCA
This event is organized by the UP League of Agriculural Biotechnology Students in partnership with the DA Biotechnology Program Office and the Biotechnology Coalition of the Philippines in cooperation with SEARCA Biotechnology Information Center.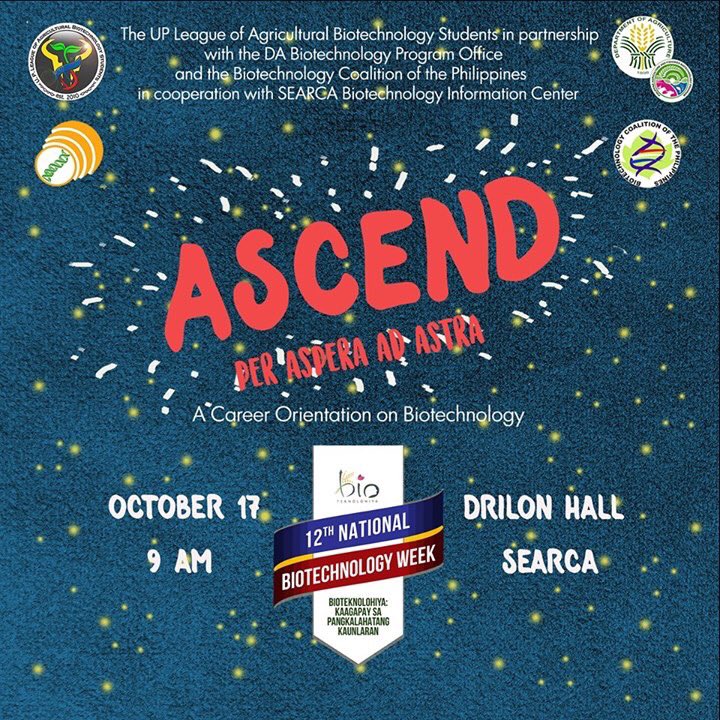 Jul
29
Mon
6th Plant Genomics & Gene Editing Congress Asia co-located with Microbiome for Agriculture Congress Asia 2019
29-30th July – Grand Millennium Hotel Kuala Lumpur, MALAYSIA
We are proud to announce that
SEARCA-BIC
is the official media partner for this event and as a member/subscriber, you are entitled to get 10% OFF* by applying the discount code 

SK/PGCA/10

 when you register online
Over the recent years, plant research and its associated technologies have improved drastically as a result of revolutionary breakthroughs such as new gene editing technology and the reduction in the cost of sequencing. As a result of many plants have now been successfully sequenced and a wide range of biological data-set made available, plant scientists are now making use of state of the art technology platforms to help explain biological principals, advance research and therefore enable benefits such as crop improvement and breeding techniques.
Meanwhile, the mass variety of microbes within the plant and soil are not only crucial in plant growth, yield & health, but also in pest management and fixation cycles. The crop quality improving technologies and the new pest control technologies are now becoming important tools to farmers.
This year, we are pleased to announce that the congress is co-located with Microbiome for Agriculture Congress Asia 2019. This congress is part of our highly respected Plant Genomic Series held in Europe each May and the US every September each year.
Join us in Kuala Lumpur, MALAYSIA on 29-30th July 2019
Applicable for academics, non-profit & industry delegates only
| | | |
| --- | --- | --- |
| Malaysian Bioeconomy Development Corporation | Asian Association of Agricultural Colleges and Universities | Malaysia Agricultural Proteomics Society |
GLOBAL ENGAGE SDN BHD – Asia Pacific Office – Level 33, Ilham Tower, 8 Jalan Binjai, 50450 Kuala Lumpur, MALAYSIA, T:+60 32117 5247
Produced & Organised by :
Oct
25
Fri
2nd Plant Sciences Symposium

@ SEARCA
About the Symposium
The Plant Sciences Symposium is primarily a student organized symposia series sponsored by Corteva Agriscience™, an agriculture division of DowDupont™, that is held at universities and research institutes worldwide. The objective of the Symposium is to promote the interaction between scientists and experts of both public and private sectors. In October 2019, the International Rice Research Institute (IRRI) will host the Plant Science Symposium in Los Baños, Philippines.
Theme
The theme of the symposium is "Agri-food value chain: Challenges and Opportunities".
Focusing on five levels of the value chain: 1) Agri-input manufacturer, 2) Farmers, 3) Food manufacturer and traders, 4) Food retailers, and 5) Consumers.
About the Host
IRRI is the world's premier research organization dedicated to reducing poverty and hunger through rice science, improving the health and welfare of rice farmers and consumers, and protecting rice-growing environments for future generations. It is an independent, nonprofit, research and educational institute, founded in 1960 by the Ford and Rockefeller foundations with support from the Philippine government. The Institute is also a part of the Consultative Group on International Agricultural Research (CGIAR), a global partnership that unites organizations engaged in research for a food-secured future.
The Symposium is organized by the Association of Fellows, Scholars, Trainees, and Residents of IRRI (AFSTRI) which is a scholar-based community responsible for trainings, sports, and cultural activities for all students, research scholars, postdoctoral fellows, and trainees at IRRI.
About the Co-host
The Southeast Asian Regional Center for Graduate Study and Research in Agriculture (SEARCA) is one of the 26 specialist institutions of the Southeast Asian Ministers of Education Organization (SEAMEO). Established in 1966 and hosted by the Philippine government, SEARCA is mandated to strengthen institutional capacities in agricultural and rural development in Southeast Asia through graduate education and institutional development, research and development, and knowledge management. It serves the 11 SEAMEO member countries, namely, Brunei Darussalam, Cambodia, Indonesia, Lao PDR, Malaysia, Myanmar, the Philippines, Singapore, Thailand, Timor-Leste, and Vietnam.