Oct
17
Mon
ASCEND PER ASPERA AD ASTRA: A Career Orientation on Biotechnology

@ Drilon Hall, SEARCA
This event is organized by the UP League of Agriculural Biotechnology Students in partnership with the DA Biotechnology Program Office and the Biotechnology Coalition of the Philippines in cooperation with SEARCA Biotechnology Information Center.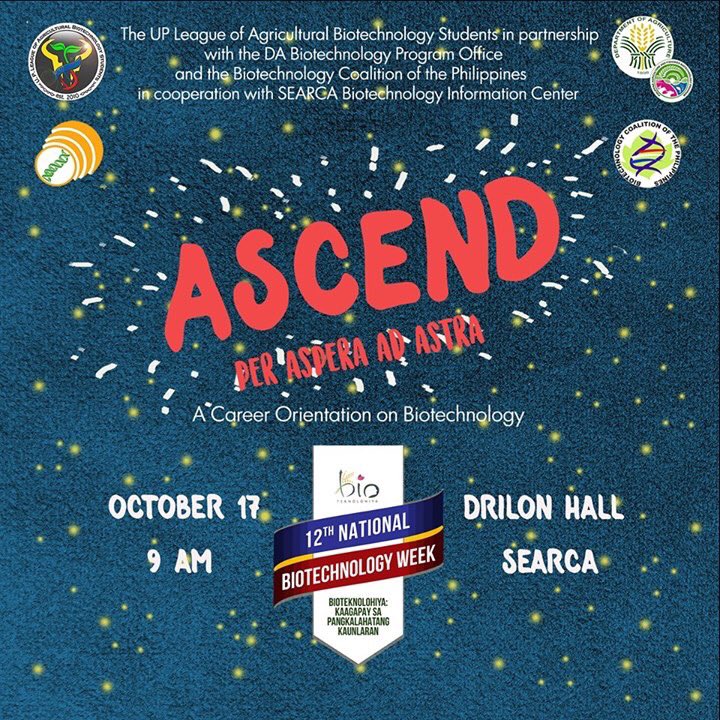 Jan
28
Mon
13th International Conference on Agriculture and Plant Science
About Conference:
Conference Series LLC Ltd feels proud and honored in inviting the contributors across the globe to its 13th International Conference on Agriculture and Plant Science (Agri Summit 2019) to be held during Jan 28-29, 2019 in Osaka, Japan. Agri Summit 2019 is the premier event that brings together a unique and International mix of experts, researchers and decision makers both from academia and industry across the globe to exchange their knowledge, experience and research innovations to build a world Food, Beverage scientists, industrialists, and entrepreneurs meet.
Conference Series LLC Ltd organizes 3000+ Global Events inclusive of 600+ Conferences, 1200+ Workshops and 1200+ Symposiums on various topics of Science & Technology across the globe with support from 1000 more scientific societies.
For decades, a growing body of evidence points to food as the key to improving the health of our bodies, as well as the health of our communities and our environment. Our food choices are informed consciously or not by policy, society, economics, and marketing and, of course, personal choice. Increasingly, food is being touted as a method of prevention, and a prescription for better health.
The annual Food & Beverage Conference continues to be the premier environmental event for the food industry, bringing together senior environmental managers from food and beverage companies to share their experiences with sustainable practices, environmental compliance and new technologies and approaches. This Food conference is open to those employed by a food or beverage processing company, food and beverage industry vendors, and consultant partners and supporting trade associations. This food event is organized to foster information exchange and networking.
The associated exhibition will run in parallel with the conference and definitely it will offer you the chance to get updated information from companies active in your area of interests.
This is an open event; we welcome and invite you to participate in this prestigious food conference to make an event as the best event in japan.
Target Audience:
· Agriculture Science Faculty, Students, Scientists
· Food Science Technologists
· Food Science Students, Scientists & Researchers
· Food Science and Safety Department
· Food Science and Safety Associations and Societies
· Plant Science Faculty, Students, Scientists
· Animal Science Faculty, Students, Scientists
· Agricultural Universities
· Forestry and Landscaping Scientists
· Agriculture and Plant Associations and Societies
· Agriculture & Food Security
· R&D Laboratories
· Manufacturing Agricultural Devices Companies
· Food science Faculty
Jul
29
Mon
6th Plant Genomics & Gene Editing Congress Asia co-located with Microbiome for Agriculture Congress Asia 2019
29-30th July – Grand Millennium Hotel Kuala Lumpur, MALAYSIA
We are proud to announce that
SEARCA-BIC
is the official media partner for this event and as a member/subscriber, you are entitled to get 10% OFF* by applying the discount code 

SK/PGCA/10

 when you register online
Over the recent years, plant research and its associated technologies have improved drastically as a result of revolutionary breakthroughs such as new gene editing technology and the reduction in the cost of sequencing. As a result of many plants have now been successfully sequenced and a wide range of biological data-set made available, plant scientists are now making use of state of the art technology platforms to help explain biological principals, advance research and therefore enable benefits such as crop improvement and breeding techniques.
Meanwhile, the mass variety of microbes within the plant and soil are not only crucial in plant growth, yield & health, but also in pest management and fixation cycles. The crop quality improving technologies and the new pest control technologies are now becoming important tools to farmers.
This year, we are pleased to announce that the congress is co-located with Microbiome for Agriculture Congress Asia 2019. This congress is part of our highly respected Plant Genomic Series held in Europe each May and the US every September each year.
Join us in Kuala Lumpur, MALAYSIA on 29-30th July 2019
Applicable for academics, non-profit & industry delegates only
| | | |
| --- | --- | --- |
| Malaysian Bioeconomy Development Corporation | Asian Association of Agricultural Colleges and Universities | Malaysia Agricultural Proteomics Society |
GLOBAL ENGAGE SDN BHD – Asia Pacific Office – Level 33, Ilham Tower, 8 Jalan Binjai, 50450 Kuala Lumpur, MALAYSIA, T:+60 32117 5247
Produced & Organised by :