Oct
17
Mon
ASCEND PER ASPERA AD ASTRA: A Career Orientation on Biotechnology

@ Drilon Hall, SEARCA
This event is organized by the UP League of Agriculural Biotechnology Students in partnership with the DA Biotechnology Program Office and the Biotechnology Coalition of the Philippines in cooperation with SEARCA Biotechnology Information Center.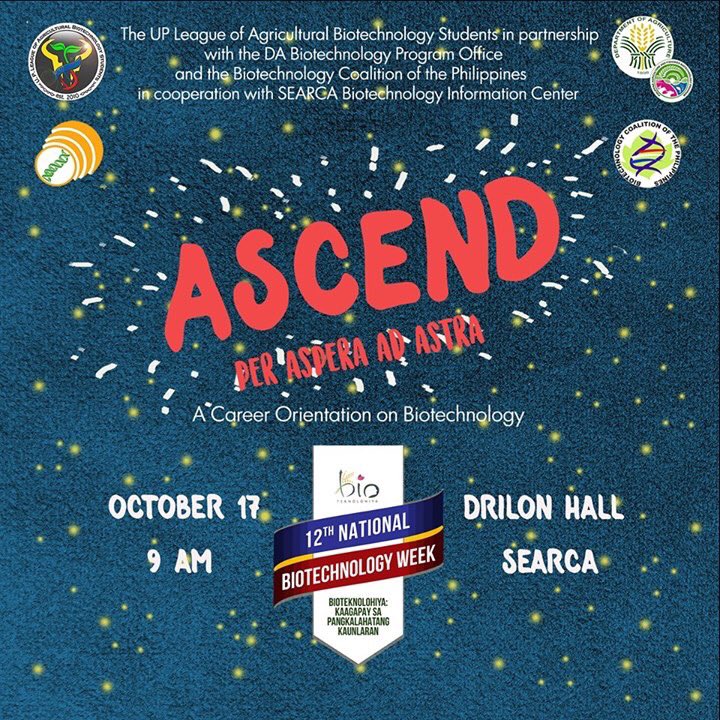 Jul
29
Mon
6th Plant Genomics & Gene Editing Congress Asia co-located with Microbiome for Agriculture Congress Asia 2019
29-30th July – Grand Millennium Hotel Kuala Lumpur, MALAYSIA
We are proud to announce that
SEARCA-BIC
is the official media partner for this event and as a member/subscriber, you are entitled to get 10% OFF* by applying the discount code 

SK/PGCA/10

 when you register online
Over the recent years, plant research and its associated technologies have improved drastically as a result of revolutionary breakthroughs such as new gene editing technology and the reduction in the cost of sequencing. As a result of many plants have now been successfully sequenced and a wide range of biological data-set made available, plant scientists are now making use of state of the art technology platforms to help explain biological principals, advance research and therefore enable benefits such as crop improvement and breeding techniques.
Meanwhile, the mass variety of microbes within the plant and soil are not only crucial in plant growth, yield & health, but also in pest management and fixation cycles. The crop quality improving technologies and the new pest control technologies are now becoming important tools to farmers.
This year, we are pleased to announce that the congress is co-located with Microbiome for Agriculture Congress Asia 2019. This congress is part of our highly respected Plant Genomic Series held in Europe each May and the US every September each year.
Join us in Kuala Lumpur, MALAYSIA on 29-30th July 2019
Applicable for academics, non-profit & industry delegates only
| | | |
| --- | --- | --- |
| Malaysian Bioeconomy Development Corporation | Asian Association of Agricultural Colleges and Universities | Malaysia Agricultural Proteomics Society |
GLOBAL ENGAGE SDN BHD – Asia Pacific Office – Level 33, Ilham Tower, 8 Jalan Binjai, 50450 Kuala Lumpur, MALAYSIA, T:+60 32117 5247
Produced & Organised by :
Aug
19
Mon
7th Asia Pacific Plant Biology and Plant Science Congress
About Conference
Conference Series Ltd conferences, "7th Asia Pacific Plant Biology and Plant Science Congress" during August 19-20, 2019 in Tokyo,Japan aims to bring together leading academic scientists, researchers, specialists and research scholars to exchange and share their experiences and research results on all aspects of Plant Biology and Plant Science. It also provides a premier interdisciplinary platform for researchers, practitioners and educators to present and discuss trends, the most recent innovations, and concerns in the field of Plant Biology and Plant Science.
Plant Biology and plant science Conference focus current topics in Plant Biology, Plant tissue culture, Plant Biotechnology, Plant nutrition and Soil Science ,Plant cell biology, Plant Bio-informatics, Plant Genetics and Epi-genetics, Plant Morpholgy, Plant Nanotechnology, Plant Ecology, Plant breeding and Development, Plant pathology, Phenotyping and Photo synthetic diversity, Pest Management, Plant Biology applications, Medicinal and aromatic plant sciences, Horticulture, Assimilation of mineral nutrients will be able to discuss about the latest issues and trends in Novel technologies of plant biology and plant sciences. Plant products are important for Food, medicine, energy, and so many things we can get from plants. This conference brings all such scientists, researchers, scholars, Noble Laureate, students and people together those who are involved in Plant Biology, Forest Science, Soil Science,Agricultural Science, Plant Science gives a great opportunity to discuss about their innovations, exchanging ideas and interaction with each other.