Oct
17
Mon
ASCEND PER ASPERA AD ASTRA: A Career Orientation on Biotechnology

@ Drilon Hall, SEARCA
This event is organized by the UP League of Agriculural Biotechnology Students in partnership with the DA Biotechnology Program Office and the Biotechnology Coalition of the Philippines in cooperation with SEARCA Biotechnology Information Center.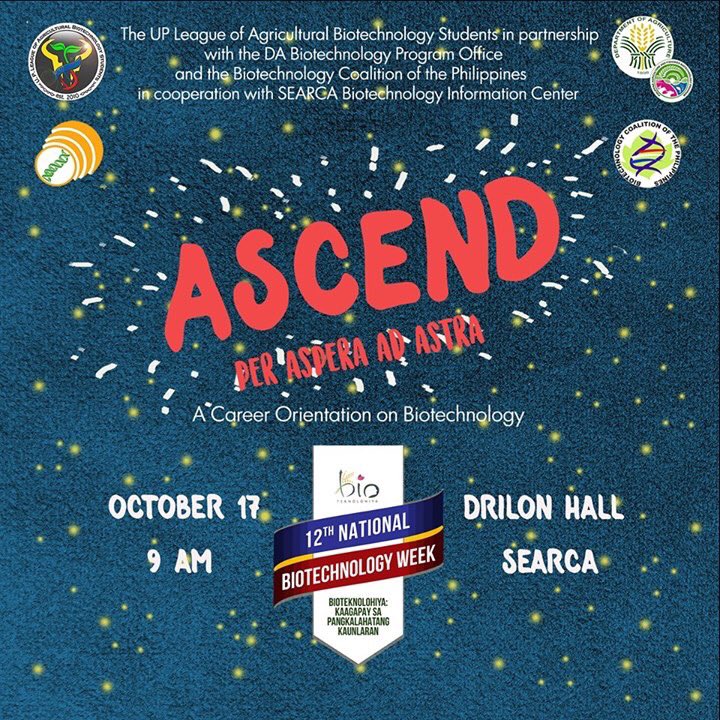 Nov
20
Mon
Philippines National Biotechnology Week 2017

@ Fisher Mall EXPO HALL, Fourth Floor, Quezon Ave., cor. Roosevelt Ave., Quezon City
The national government recognizes the beneficial impact of safe and responsible use of biotechnology and its products as one of the several means to achieve and sustain food security, equitable access to health services, sustainable and safe environment, and industry development.
In observance of Presidential Proclamation No. 1414, s. 2007, the 13th National Biotechnology Week (NBW) is being organized by Departments of Agriculture (DA), Science & Technology (DOST), Health (DOH), Environment & Natural Resources (DENR), Trade & Industry (DTI), Interior & Local Government (DILG), Education (DepEd), and the Commission of Higher Education (CHED), as well as the academe, civil society organizations, and private companies, constitute the National Biotechnology Week Committee with the Department of Agriculture as its Chair for this year's celebration.
As part of the NBW Committee, SEARCA Biotechnology Information Center carries out built-up activities for the NBW.
Aug
19
Mon
7th Asia Pacific Plant Biology and Plant Science Congress
About Conference
Conference Series Ltd conferences, "7th Asia Pacific Plant Biology and Plant Science Congress" during August 19-20, 2019 in Tokyo,Japan aims to bring together leading academic scientists, researchers, specialists and research scholars to exchange and share their experiences and research results on all aspects of Plant Biology and Plant Science. It also provides a premier interdisciplinary platform for researchers, practitioners and educators to present and discuss trends, the most recent innovations, and concerns in the field of Plant Biology and Plant Science.
Plant Biology and plant science Conference focus current topics in Plant Biology, Plant tissue culture, Plant Biotechnology, Plant nutrition and Soil Science ,Plant cell biology, Plant Bio-informatics, Plant Genetics and Epi-genetics, Plant Morpholgy, Plant Nanotechnology, Plant Ecology, Plant breeding and Development, Plant pathology, Phenotyping and Photo synthetic diversity, Pest Management, Plant Biology applications, Medicinal and aromatic plant sciences, Horticulture, Assimilation of mineral nutrients will be able to discuss about the latest issues and trends in Novel technologies of plant biology and plant sciences. Plant products are important for Food, medicine, energy, and so many things we can get from plants. This conference brings all such scientists, researchers, scholars, Noble Laureate, students and people together those who are involved in Plant Biology, Forest Science, Soil Science,Agricultural Science, Plant Science gives a great opportunity to discuss about their innovations, exchanging ideas and interaction with each other.